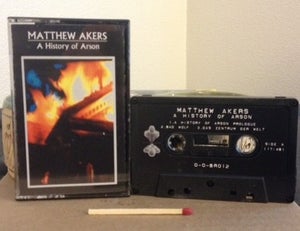 $

5.00
Sold out through me. :(
New tape on Out Of Body Records. Edition of 100 copies.
http://matthewakers.bandcamp.com/album/a-history-of-arson
"MATTHEW AKERS COMPOSES 6 INTENSE TRACKS THAT AIM TO CAPTURE THE CATHARTIC PROCESS THAT GOES TROUGH AN ARSONISTS MIND. THE FANTASIES,THE PLANING,THE ANTICIPATION, THE THRILL, THE EMOTIONS, THE ACT, THE RELEASE AND THE POWER. A PERFECTLY SCULPTED MODERN SYNTH RECORD- BEAUTIFUL AND PRECISE, YET DARK AND FRIGHTENING, AND AT THE SAME TIME HYPNOTIC AND MESMERIZING, MUCH LIKE AN ENGULFING FLAME. THIS AURAL JOURNEY HAS EVERYTHING FROM HEAVY AND DENSE, ROMANTIC SOUNDSCAPES, CREEP ZONE GROOVES AND UPLIFTING DRIFTS TO PROGY JAUNTS AND ADRENALINE PUMPING RHYTHMIC TRACKS. - MAKING ONES FANTASY A REALITY, THIS TAPE TAKES YOU ON A SHORT JOURNEY THROUGH THE EYES OF A FIRESTARTER. THIS IS ONLY A CHAPTER IN THEIR HISTORY OF ARSON."